Disappointed that her party was unable to whip up an October Surprise while Obama was off the campaign trail visiting his sick grandma, College Republican Ashley Todd decided to take matters into her own hands. She made up a story, sensationalized by Matt Drudge, about being attacked by a huge black man who punched her in the face, took the $60 bucks she had in her hand and then followed her back to her car where, upon seeing her "I Heart John McCain" (and Crack Cocaine!) bumper sticker, said black beast pulled his dick out and beat her unconscious with it and then carved a B for "Black Power", "Barack Obama", "by any means necessary", "Booyah!", or possibly "Bitch, if you tell on me...", on her face.
The jokes write themselves.
Here's the fatty being hauled off to jail:
But - before it was "exposed" as a hoax, the story on Drudgereport
had both McCain and Palin calling this chick
to tell her to stand strong, they were One (in their hatred of the poor, women and paying taxes back into the society that enriched them) with her and they'd make sure that Black Bastard didn't have the last laugh by using her story to rally their base by stoking racial hatred until election day. Or
something
to that effect.
The real question here though is what is it about being a
College Republican
that makes a
motherfucker so evil and filled with hate
?
It's getting ugly out there
A McCain staffer was assaulted last night in Pittsburgh.

Via Drudge:
Pittsburgh Police are investigating a report

by a campaign staffer for John McCain that she was mugged and the letter B was cut into her face following a robbery in Bloomfield last night.

Police say the 20-year-old woman, who is from Texas, reported that the attack occurred after she withdrew money from an ATM at Liberty Avenue and Pearl Street.

She said a man armed with a knife demanded her money. She gave it to him and began walking toward her car, which has McCain stickers.

Although the robber had moved away from her, he became agitated when he saw her car, punched her in the back of the head, pushed her to the ground and carved a B into her face, she reported.



Police said the woman declined medical treatment at the scene.
UPDATE: A McCain aide says that both the McCain and Palin have called the family of the victim.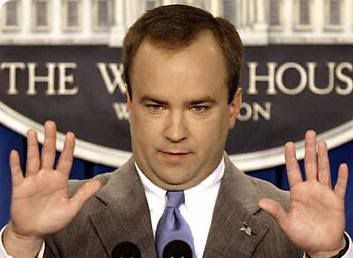 As an aside,
Scott McClellan
, aka "Evil George Costanza" came out and backed Obama. I don't know if he did it for laughs or to try and
take a jab at Bush
or if he was hoping to discredit Obama with his endorsement but WTF?

McCain Communications Director Gave Reporters Incendiary Version Of "Carved B" Story Before Facts Were Known
John McCain's Pennsylvania communications director told reporters in the state an incendiary version of the hoax story about the attack on a McCain volunteer well before the facts of the case were known or established -- and even told reporters outright that the "B" carved into the victim's cheek stood for "Barack," according to multiple sources familiar with the discussions.
John Verrilli, the news director for KDKA in Pittsburgh, told TPM Election Central that McCain's Pennsylvania campaign communications director gave one of his reporters a detailed version of the attack that included a claim that the alleged attacker said, "You're with the McCain campaign? I'm going to teach you a lesson."
Verrilli also told TPM that the McCain spokesperson had claimed that the "B" stood for Barack. According to Verrilli, the spokesperson also told KDKA that Sarah Palin had called the victim of the alleged attack, who has since admitted the story was a hoax.
The KDKA reporter had called McCain's campaign office for details after seeing the story -- sans details -- teased on Drudge.
The McCain spokesperson's claims -- which came in the midst of extraordinary and heated conversations late yesterday between the McCain campaign, local TV stations, and the Obama camp, as the early version of the story rocketed around the political world -- is significant because it reveals a McCain official pushing a version of the story that was far more explosive than the available or confirmed facts permitted at the time.
The claims to KDKA from the McCain campaign were included in an early story that ran late yesterday on KDKA's Web site. The paragraphs containing these assertions were quickly removed from the story after the Obama campaign privately complained that KDKA was letting the McCain campaign spin a racially-charged version of the story before the facts had been established, according to two sources familiar with the discussions.
The story with the removed grafs is still right here. We preserved the three missing grafs from yesterday:

A source familiar with what happened yesterday confirmed that the unnamed spokesperson was communications director Peter Feldman. Feldman was also quoted yesterday making virtually identical assertions on the Web site of another local TV station, WPXI. But those quotes, which we also preserved here, are also no longer available on WPXI's site, for reasons that are unclear.
This is problematic because the McCain campaign doesn't want to have been perceived as pushing an incendiary story that not only turned out to be a hoax but which police officials said today risked blowing up into a "national incident" and has local police preparing to file charges against the hoaxster.
There's no evidence that anyone from McCain national headquarters put out a version of events like this.
After the story appeared on KDKA's site and this and other pieces in the local press started flying around the political world, an Obama spokesperson in the state angrily insisted to KDKA that it was irresponsible for the station to air the McCain spokesperson's incendiary version of events before the facts were fully known, according to two sources familiar with the discussions.
After that, KDKA went back to McCain's Pennsylvania spokesperson, Feldman, and asked if he stood by the story as he'd earlier told it, but he started backing off the story, a source familiar with the talks says. That prompted KDKA to remove the grafs.
Feldman couldn't immediately be reached, and a McCain HQ spokesperson declined to comment.
Moral of this story: Where in bleeping hell is Karl Rove when ya' need him the most?